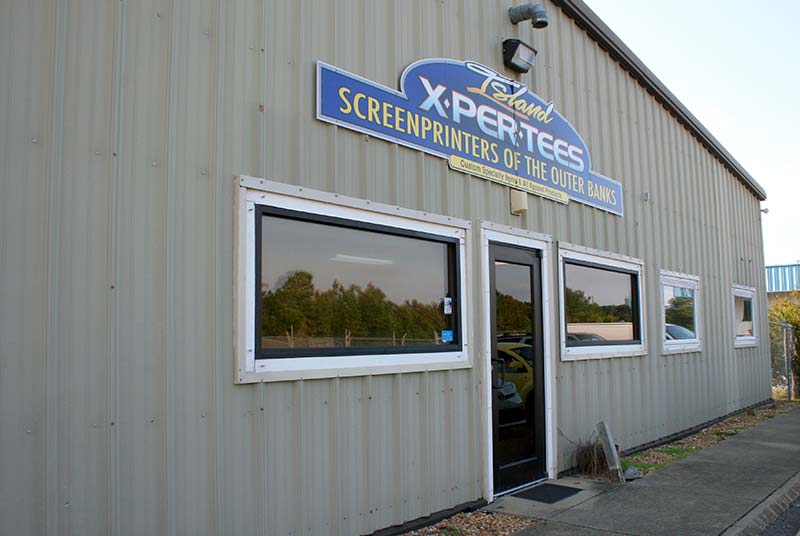 OUTER BANKS, NC
On North Carolina eastern most edge are tranquil beaches nestled among picturesque sand dunes has become one of America's top vacation getaways. Quaint beach living and coastal villages accommodate visitors all year.
Island Xpertees was started and currently resides on North Carolina's Outer Banks (or barrier islands). These thin islands stretch from the northern-most beaches of Corolla, Sanderling and Duck down through Hatteras to Ocracoke island.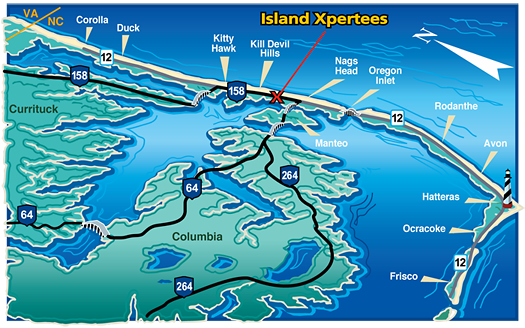 NAGS HEAD, NC
Our Warehouse & Offices are West of US 158 in the town of Nags Head at Milepost 10. The Entrance to Island Xpertees is on 2224 South Lark Ave. 1/2 mile west of the Bypass/US 158.
FROM HAMPTON ROADS, VA
A new four lane Toll Road thru Chesapeake is now open.The 16 mile highway known as The Chesapeake Expressway connects Interstate 64 around Norfolk with North Carolina's new five lane highway 168 to the Outer Banks. The new toll road incorporates "Smart Tag" toll collection system for frequent travelers.
FROM WASHINGTON D.C., RICHMOND & POINTS NORTH
I-95 South to Richmond
I-64 East From Richmond to Norfolk / Virginia Beach
South on The Chesapeake Expressway Toll Road (VA – 168) or Battlefield Blvd. exit – VA Business 168 South
North Carolina's US 158 East to Wright Memorial Bridge and into the Outer Banks' town of Kitty Hawk
Follow US 158 (Bypass) South to Nags Head turning right at Satterfiled Landing traffic light. Proceed west on Satterfield to the end. Take a right onto South Lark Aevenue and Island Xpertess will shortly on your left.
FROM WEST NC TO ISLAND XPERTEES
Exit I-95 in Rocky Mount, NC
Follow US 64 East to Williamston
From Williamston take US 17 North via Edenton to Elizabeth City
Turn Right on to US 158 East to Kitty Hawk
FROM SOUTH NC TO ISLAND XPERTEES
Exit I-95 in Rocky Mount
Travel East on US 64 to Williamston
Continue US 64 to the New Bonner Bridge bypassing Manteo & onto the Nags Head causeway
Follow US 158 North to Nags Head
Easy Quotes
Fill out our simple quote form.
Receive quote.
Smile 🙂